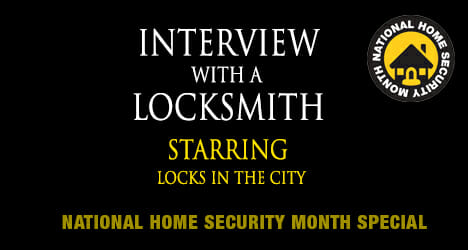 To celebrate Home Security Month we've been quizzing our locksmiths members on the ups and downs of the job, the weirdest situations locksmithing has gotten them into and of course, their top tips for how to keep your home secure. In our latest interview with a locksmith,  Paul Horton, co-director of MLA approved locksmithing company, Locks in the City Ltd, is a mobile locksmith based in Thamesmead, London. He and his partner in the company, Daniel Palmer, are out on the road every day serving up security solutions.  Here, he answers five questions to give us an insight to his daily life (and a few security tips!)
1. What's the one security mistake you find homeowners often make?
They become complacent. They think 'It happens to other people, not me'. People often leave keys in doors and windows when they go out and don't secure mortice locks because they think 'I'm only popping out for 10 minutes, it will be fine'. You hear of it on a weekly basis but it's always too late, we are called out to change locks, make their homes secure and offer advice.
2. Why did you choose to become a locksmith?
I fell into locksmithing by accident. I was looking for a car in a specialist magazine and in the back there were businesses for sale. One of them was a locksmith business, this got me curious and it became a hobby of mine, almost an addiction. I had already trained in mechanical engineering and I was very hands on – I think these two elements make an ideal candidate for locksmithing. Soon my hobby became my job, and six years later – in 2011 – I started Locks in the City. In 2015 I made the company Limited and gave Daniel the role of Joint Director. I enjoy being a Locksmith as its very hands on, it relies on good problem solving skills in all weathers and conditions, great patience and exceptional mental dexterity. It's enjoyable because one day you can be cutting keys to locks and the next you can be installing a master suite at the office block of a company who deal in multimillion pound transactions. The days and jobs are varied which makes the job exciting.
3. What are the best and worst parts of the job?
The best part of the job is the satisfaction you get – I still get a buzz when I pick a lock in the same way I did when I opened my first lock in 2004! It's also enjoyable when you complete a security upgrade for a customer – you know when you leave them that they feel safe and secure. The worst part is arriving to a job and seeing the aftermath of a burglary, the devastation left behind after someone's home has been trawled through, their prized possessions violated and their priceless and irreplaceable sentimental items taken. The families are in pieces and often don't want to stay in their homes.
4. What's the weirdest job you've ever been called out to?
The weirdest job that I can think of was when I was called out to a property locally, the guy was locked out after having left his keys inside. I got the door open with great relief from the gentleman, and he invited me in to sort out payment. On walking through it became evident that the guy was a collector of frogs memorabilia. He had everything you could possibly think of. Everything and anything with an image or association to frogs. Cushions, magazines, ornaments, cups, he even had t-shirts with frogs on. He joked that he was going to change his name to Mr Rivett, though looking back I'm not quite sure that was a joke!
5. What would your one top tip for Home Security Month be?
Contact an MLA approved Locksmith and have them carry out a security survey of your home. Often these will be carried out free of charge, with no obligation. The locksmith will be able to help you look at the vulnerable areas that you may not even think of, giving you an overall survey based on their knowledge and experience. They can advise on the up-to-date products available on the market to ensure your home, office and worldly possessions are kept safe and secure too and the Master Locksmith Association ensure all members are vetted, inspected and qualified to fulfil this duty.

Head to www.locksinthecity.co.uk to find out more about Locks in the City or follow their social media feeds for some more security advice and trade insight:
READ MORE LOCKSMITH INTERVIEWS: for more Interviews with MLA approved Locksmiths, please see our every interview with a locksmith so far page