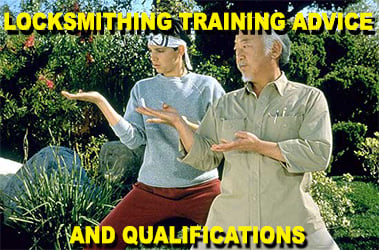 There's lots of talk about locksmith qualifications and what certain training companies can offer and why you should choose them over others etc.
Are there qualifications in Locksmithing?
Well the truth is that until recently there were no nationally recognised qualifications in locksmithing. Even now, the only one that exists is the level 2 qualification that forms part of the newly launched locksmith apprenticeship (which is currently only offered through HABC as the awarding body, and nobody has passed it yet, as of Jan 2014).
Yes there will be claims about C&G this, level 4 that – but they're all tailored awards, not qualifications – basically you pay to get something accredited. How do we know? We did it ourselves and had a C&G level 3 tailored award, but unfortunately these awards seem to be all about numbers and unless you're putting loads of people through (and therefore paying good money) then a lot are not that interested in continuing them.
Locksmithing is not a get rich quick scheme
We wanted to make locksmithing a "proper job" and get away from the "get rich quick" type promotion that there seems to be a lot of at the moment, with a number of companies saying their short training course will make you a fully qualified locksmith earning £50-60k per year. This was one of the reasons behind wanting to create an official locksmith apprenticeship.
Locksmithing is a long term career and should be promoted as such. It takes years to learn the knowledge required and even then you never stop learning. Why have these "conveyor belts" of locksmiths expecting to be making megabucks and in a lot of instances unfortunately failing after a few months.
With an apprenticeship taking at least 12 months then surely it's curious that short courses can make you "fully qualified". The apprenticeship also helps locksmith companies as (depending on age of the apprentice) there is government funding available. The formal qualification part of the apprenticeship is the "icing on the cake".
Thinking of becoming a Locksmith – questions you need to ask yourself
As those in the trade know, and we say elsewhere on this site, there's a lot more to running a locksmith company than going on a short course!
Where are you going to be based?
How many locksmiths are there already in that area?
What type of locksmith work is required? ( i.e domestic/commerical,areas of specialism ( auto, safes, access control, emergency etc… )
What investment is required?
What about the business skills – do you have them or the budget to buy them in?
Who to get your training from is something that needs to be thought about when considering becoming a locksmith.
Our opinion on choosing a Locksmith training provider
Once you've done your research and have decided that locksmithing is a viable career path, careful consideration needs to go into choosing where you get your training from, as there is a lot of good quality training out there, but unfortunately a lot of poor quality training too.
Choose a training provider wisely, don't just go for the cheapest, be wary of any courses offering huge discounts, there will be discounts for a reason! Most likely lack of interest! Value is whats important!
Research what is included in the price of the course. For example – accommodation, food & drinks.
Being provided with locksmithing equipment/tools may not be as beneficial as first thought. For example tools will depend on the kind of locks you encounter, which inturn is determined in a lot of instances by geographical location. You may therefore end up with tools that you never use.
Don't believe everything you hear (yes, including from us – we may well be biased!)
Get testimonials, visit the company, ask questions and find what is going to work best for you.
To sum it up, don't believe the hype!
Recommended Further Reading