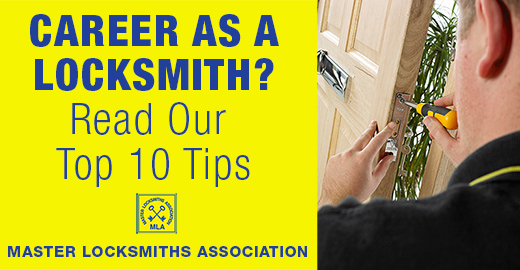 Here at the MLA we get many enquiries about people wanting to know how to become a locksmith, some have just left school and are looking for an apprenticeship, some are looking for a career change.
Below we have put together some tips to help you in a career as a potential Locksmith.
[ Join our Locksmith Resource Group on Facebook: if you are thinking about becoming a locksmith we can answer any questions you have ]
Top 10 Quick Tips for Starting a Career as a Locksmith
1. Don't believe the hype
Don't believe the hype spread by some training organizations who sell Locksmithing as a 'get rich quick career' – short courses will not automatically lead to a £60K a year career as a locksmith
2. Qualifications
There is no "national recognised qualification" for being a locksmith.
There are tailored awards but please don't confuse these with qualifications.
3. Skills and Interests required
Going the self-employed route: You will need business skills on top of locksmithing skills such as marketing, accounts, general business knowledge, that's if you've never run your own business before.
Working for an established locksmith company: You will only need to concentrate on your skills as a locksmith ( mechanical engineering, carpentry, people skills etc.. )
4. Do your research – Questions you need to ask yourself!
Where will you be working?
What's the area like?
 Are there many Locksmiths already in your area? Bonus Tip: do a Google search, look at your potential competitor's reviews
Are there any gaps in the market? Bonus Tip: Does a Safe specialist live in your area?  Who fits Security Grilles and Gates in your area?
What sort of locksmith work is required in the area? Bonus Tip: Is lock snapping prevalent in the area?
Ask current Locksmiths in your area what business is like etc… – working locksmiths can ask in our Facebook Group
5. Training Is required
You will need to think about training to become a locksmith, do you want to take a locksmith course or take an apprenticeship in locksmithing?
The type of training you do will depend on the type of services you want to offer – see tip #6.
Once you've been trading as a locksmith you may want to look into offering more services, think of taking intermediate and advanced courses in areas such as lock opening, furniture locks and working with aluminium doors.
6. Services you want to offer as a locksmith
Think about what services you want to offer (and more importantly what sort of services are required by customers):
Will you be doing vehicles ( auto locksmith )?
Security Safes ( safe engineers )?
Commercial ( access control, alarms etc.. ) ?
Domestic ( 24 emergency lockouts, security upgrades )
What services will your customers will want in your area?
Find your niche and dominate it!
7. Start a business plan
With all the costs of starting up including training needed, equipment, van (and associated vehicle costs), advertising and marketing, website costs, insurance, business rates, stock etc.. don't underestimate these costs!
8. Hours you may be required to work
A lot of locksmiths offer a 24-hour emergency service, how will this fit in with your family life?  Is it something that you want to offer.
Are there many emergency locksmiths in your area?
Is there any 24-hour safe opening experts in your area?
What about 24-hour auto locksmiths in your area?
9. Locksmith Training Providers
Do your research on the Locksmith training provider ( whilst there is a lot of good quality training available there is also a lot of poor training out there ), ask existing locksmiths who have done a training course who they used and what the course was like.
10. Never Stop Learning
Finally don't forget you never stop learning, with new products, changing standards etc.. then you will always need to keep up to speed and refresh your knowledge. For example, MLA members do this by regularly attending regional meetings.
---
Should you want to become a Locksmith you will have the opportunity to join the MLA, this will come with many benefits.
Join the UK's Largest Locksmith Association
Various options depending on how long you've been in the industry.
One huge benefit is that you will be featured on our Find A Locksmith page on our website – receive promotion for your company on our site ( #1 on Google for many Locksmith terms! ).
Your company will feature in our yearly handbook and be able to use the converted MLA Logo on your website, promotional materials and even your company van.
Recommended Further Reading