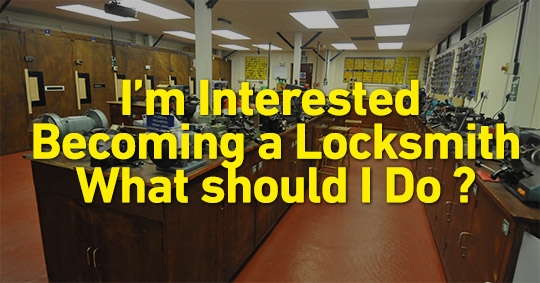 If you see locksmithing as a future career, the first thing we recommend is doing your homework. Becoming a locksmith requires a lot of research. Read on below for some questions to ask yourself and as well as further reading on the topic of locksmith training and qualifications.
To become a locksmith requires taking a training course, the most popular choice is by attending our 5-day beginner's course which includes 4 modules split over 5 days where you learn about key cutting, picking locks to fitting locks.
Other avenues include on the job training with companies who may be willing to take on a trainee.
Facebook Group: for those thinking about becoming a locksmith you can join our Locksmith Resource Group on Facebook.
How long does it take to learn to be a locksmith?
It can take up to around 3-4 years to become a fully competent locksmith.  Some attendees set-up their own business after taking our beginner's locksmith courses, gaining experience starting with small jobs and working their way up to larger projects.
The amount of time taken to become a locksmith may be reduced if you were previously a carpenter, joiner or someone with good dexterity/mechanical/electronic skills.
Those who don't set up their own business go down the employed route or take on a role as a trainee locksmith.
Important questions to ask yourself
1. Where will you be working?
Will you cover a certain radius of the area you in? or just concentrate on one specific area
2. Whats the market like?
Is the area a cash-rich area, is your area a high crime area?
3. How many locksmiths are there in the area you'll be working?
Some areas are overpopulated with locksmiths and you may struggle to make it.
Contact us for a Free Training Course Pack
or call us FREE for expert advice on 0800 783 14 98
---
What area of Locksmithing should I Offer?
If you think the area can support the services of a locksmith then you need to think about:
What services will you be offering?
More importantly what services are required by the customers?
Will you be doing domestic work or commercial
Auto? Safes? Access Control? Electrical security etc.
Will you be a 24 Emergency Mobile Locksmith?
There are so many facets to locksmithing and areas of specialisation that you can get into once the basics have been covered that you need to formulate a business plan and be realistic with your costs!
---
What is the average salary of a locksmith?
The average salary can vary from highly and is dependant on a locksmiths experience, as a ballpark figure you can be looking to earn the following:
Trainee: £16,000
Experienced: £20,000-£25,000
Highly Experienced: £30,000
The wage of a locksmith will depend on many different factors such as:
Self-employed or working for a company – you may earn a lot more money if you go the self-employed route.
Working hours – a lot of locksmiths offer a 24-hour emergency locksmith.
The services you offer – if you limit yourself to just one area, this could impact your salary.
---
How much does it cost to become a locksmith?
Initial Training Course
Our beginner's courses cost from £280 for a 1-day module to £1600 for our 5-day beginner's course.    Please see our training course page for prices of courses.
Additional Costs:
Once you have completed a course and should you decide to set up as self-employed you should think about the following:
Locksmith Tools – such as key cutting machines, lock picks, hand tools ( drills, screwdrivers, chisels etc.. )
Stock – locks, hinges, handles etc…
Vehicle – will you purchase a van? or use your current transport
Petrol costs – for getting to jobs
Insurance – for vehicle ( insurance will change once you state it is used for business purposes ) and business
Marketing/Advertising – setting up a website, creating business logos, advertising online and in-print etc..
A lot of the above will depend on what area of locksmith services you will offer.
For example, safe engineers will need to invest in scopes ( examining internal of safes ), auto locksmiths will require heavy investment in electronic programming equipment to deal with modern vehicles.
---
Taking a training course to become a locksmith
If you want to undertake a locksmithing course then again do your homework.  The MLA run a range of courses from beginners to advanced please see our locksmith training course pages for details
Speak to as many people as you can and try to get referrals from people who have undertaken courses previously to see what they think.
Talk to the training provider (and visit their premises if possible)
Find out the training providers background and the amount of experience they have.
Are they trading locksmiths themselves enabling them to provide feedback "from the coal face"? It's scary to note that some people set up as training companies after only recently having taken a short course themselves!
BONUS TIP: It's also worth talking to suppliers as they often run training courses, some of which may be FOC.
---
Is there a nationally recognised qualification for locksmithing?
Despite what some organizations say there are currently no "nationally recognised qualifications" in locksmithing.
There are some Tailored Awards but these should not be confused with qualifications. The only nationally recognised qualification was linked to the now-defunct Apprenticeship.
The BLI exam is arguably the best-recognised exam based proof of competence currently available (and it's not linked to taking a training course)
---
How do you get a locksmith license?
There is currently no licensing for locksmiths in the UK, due to the government not wanting to increase the legislative burden on small businesses.
In Ireland, there is a government based licensing scheme run by the PSA.
---
Warning about training courses!
One word of warning relating to training courses – beware of courses that try to sell you tools. The tools you'll need will very much depend on the type of work you'll be doing and also the area of the country you're based in. Locksmiths have cupboards full of shiny tools that have cost a small fortune and yet never been used.
Choose wisely once you know what you need, and some tools you may actually be able to make yourself.
In other words – make sure you go in with your eyes wide open, it's not as easy a profession as some training schools may have you believe!
---
External Resources
National Careers Service – information on a locksmiths income, skills, working hours, entry requirements and much more…
UCAS – UCAS advice on becoming a locksmith
Recommended Further Reading