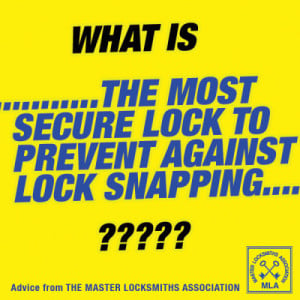 Lock Snapping is a growing security concern, as experts in door and lock security the Master Locksmiths Association recommend 3 different ways to prevent lock snapping. There are many different types of lock cylinder on the market, most people are now asking which cylinder for their front or back door is the most secure and ultimately will help protect them against lock snapping.
If you are looking to replace your door lock and protect against lock snapping then using one of the below three methods will help protect against this method of attack:
What rating should my lock cylinders have?
1. SS312 Diamond Approved Standard
We believe that you can minimise your risk of being a victim of lock snapping by ensuring the lock you purchase has the Sold Secure ( SS312 ) Diamond Standard Approval. We recommend viewing Sold Secure's Approved Diamond Cylinder list (external link to the Sold Secure Approved Products Website).
The following manufacturers have cylinders approved to SS312 Diamond; APECS, Avocet, Brisant, ERA, Federal and UAP.

---
2.  TS007 3star cylinder
An alternative specification to look out for is the TS007.  BSI Kitemark to this specification however it is important to note that there is a star rating associated with this.
In order to protect against lock snapping a 3 star rating needs to be reached.  In order to achieve this you can use a 3 star cylinder.  We recommend that a 3rd party approval of this standard is sought.
For example look for the 3 star kite mark logo.

---
3. 1-star Kitemarked Cylinder with 2 stars Kitemarked door furniture  ( e.g. door handles, escutcheons )
An alternative to the simple 3 star cylinder option is to have a 1-star cylinder protected by 2 star approved door furniture, for example, security handles or a cylinder guard.

The complexity of these standards is why you should seek specialist advice from your  local vetted, inspected and qualified locksmit
Recommend Reading