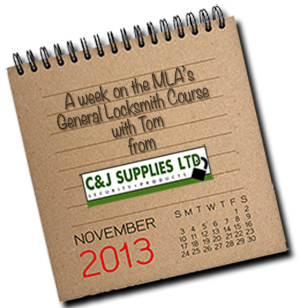 Recently Tom from C&J Supplies who are a Locksmith and Security company in South Lincolnshire attended the MLA's beginners locksmith course In November 2013 which ran for 5 days,  on this course Tom learnt aspect of locksmithing such how to cut keys by hand and machine, cut keys for safe locks to fitting locks and much more.     So we thought we'd ask Tom what he thought of the course and how he found it.
Company: C&J Supplies Ltd
Position in Company: Marketing Manager
Website: www.cjsupplies.co.uk
Twitter: @cjsuppliesltd
Locksmith Experience before course started:
My overall locksmith experience was rather limited before I attended the course.  I have experience with regards to creating and implementing master key systems and feel I am confident when it comes to key cutting across a range of different key platforms.
Why did you attend the Beginners Locksmithing Course
My main motivation for attending the Beginners Locksmith Course was to get a much better overall knowledge about everything locksmith pretty much.  I am a great believer that you have to actually know what you are talking about because you will soon get discovered – you have to know your stuff.  I had limited knowledge before attending the course and this particular course seemed a perfect opportunity to expand my knowledge base.
Why did you choose the MLA's Locksmith Course over other providers?
I decided to choose the Beginners Locksmith Course provided by the MLA because to be honest it seemed the logical choice.  The course covered all the topics that I wanted to explore and covered both the practical and tutorial side of things and the tutors were all working locksmiths that have built up knowledge over numerous years.
Did the course meet your expectations?
I feel the course met my expectations and more some.  It covered everything detailed in the course notes and the tutors selected for each day were incredibly knowledgeable and extremely personable.  The course was a mixed bunch of 'students' from different backgrounds with varying levels of locksmith experience.  I personally preferred the practical side of the course downstairs in the workshops but I have always preferred to be 'hands on' more so than in a classroom.
What did you learn through the week?
One thing I did learn throughout the week was that to be a successful locksmith you have to actually cover all the classroom work so that you actually understand how the locks work and the terminology used.  Without this knowledge base I would imagine it would be very difficult to get to grips with.  Before the course I didn't know fully what to expect of the week ahead but after completing the Beginners Locksmithing Course I would have no hesitations in recommending it to anyone.  The tutors all had their individual personalities and all brought something different to the table and it was interesting to understand all of their experiences and achieving what they have.
Over the week there was an awful amount to take in and come Friday I feel everyone was exhausted but the general feeling was that everyone had a good time and certainly found it was worthwhile.
What are your plans for the future after attending the course
On a personal level after completing the weeks course I would like to move forward and eventually take my MLA Locksmiths exam to become a fully qualified Locksmith.